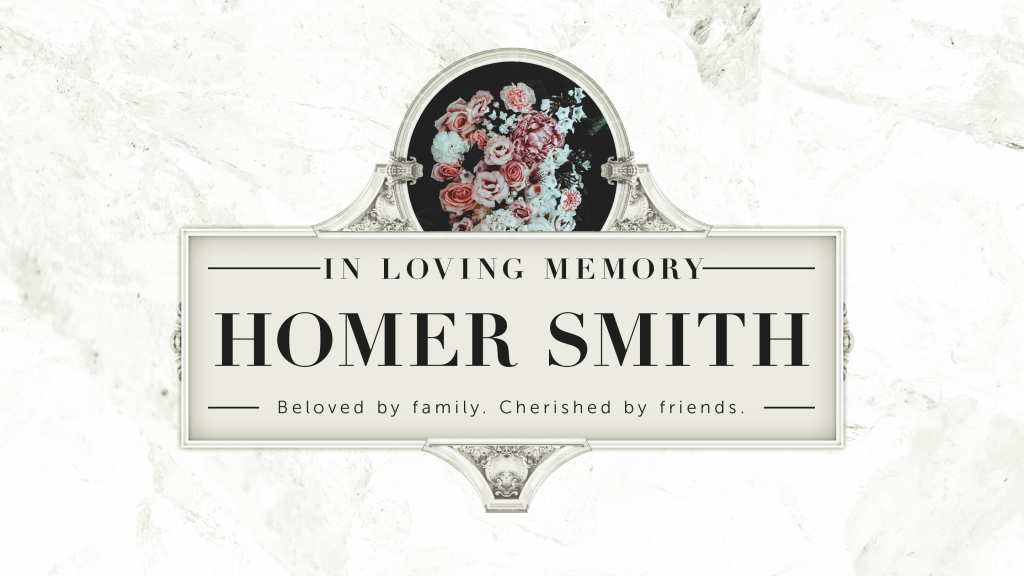 What words do I most associate with Homer Smith? Service and humility.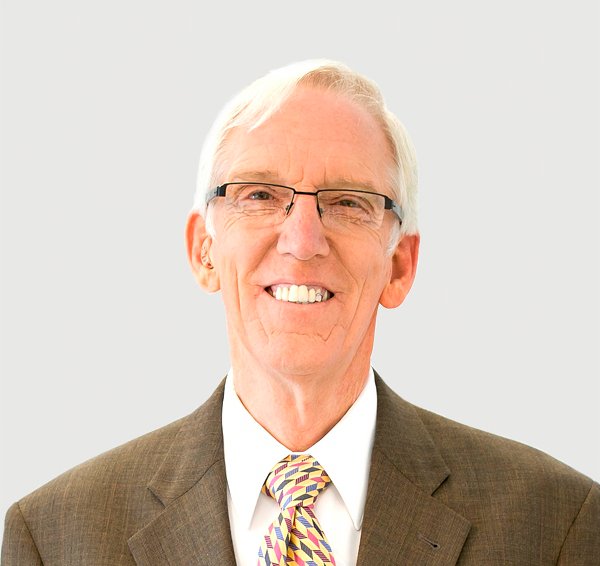 Homer would take the burdens of the whole world on his shoulders if he could. He was plugged into every aspect of the work in Jacksonville. In many cases, he was involved as an overseer, a coordinator, and a worker all at once. I'm sure he kept working on these projects for as long as he could, even after he started feeling the symptoms. I may never meet somebody who works as hard, on as many projects at once, as Homer. And even with his workload, he was always willing to drop everything to help someone in need.
Homer never seemed to want attention for his work, either. A lot of people never knew how much he was doing, all on his own, until we had to find people to take up those works in his place. I don't know if he had to hear criticism or negativity very often, but if he did, it never seemed to slow him down or break his spirit. He was going to do what he thought was right, even if there was no reward (in this world) for his service. In fact, it was rare that I would see him without a smile, a song, or a whistle. He seemed to get pleasure out of the everyday amusements of life. —Daniel Beck
---
What I will always remember about Homer is, I worked with him for nearly 20 years and I can never remember him saying one word to me out of anger or frustration. One of the most gentle people I've had the pleasure of knowing. —Wes Blankenship
---
To me, Homer was synonymous with servant. He was always working somewhere and doing something to help others. Some of the best memories I have of him involve carrying a cartload of snacks to the children at PTP or finding him cleaning the fellowship hall and resetting chairs. There were countless times where he helped solve a problem for VBS or Bible class or for some event or program of the church. He was the kind of worker that didn't ask for credit or want to be at the forefront. He only wanted to get things done for the Lord and His kingdom. I loved and respected him.  —Luke Griffin
---
Homer always had a smile on his face and a song in his heart.
I knew when he was walking down the hallway or entering the building because he always was whistling a tune. (I'm going to miss that.)
He genuinely had care and compassion for everyone he saw, church members, friends, or strangers.
Homer was a great listener and so easy to open up and talk with. He had charm, patience, and concern for others.
He wore the fruit of the Spirit daily (love, joy, peace, forbearance, kindness, goodness, faithfulness, gentleness and self-control).
He loved the church and did his very best to lead it soundly. He spent more time at the office than anyone, I dare say. Not as an employee but as a Christian leader that didn't want anything to be out of order, miscommunicated, missing, left un-done, etc. I would run into him at the building on weekends, after hours, between services, after services, on a regular basis.
His sense of humor was always kind and funny.
I remember last August when it was time for him to travel towards PTP for the rest of the week, he told us he would not be able to make it because he "had a hitch in his giddy-up." That was Homer's way. Never complained.
Homer was one of a kind. He inspires me to want to be more like him. To be courteous, kind, soft-spoken, silly, a friend to all, hard worker going beyond the call of duty, a deep love for God, a deep love for His church, love for his family, rarely complained.
I have started a journal for Sebastian to give to him when he is older. A section is written about choosing good role models to pattern after. Homer is included in that list for all the above-mentioned reasons.
I am only sad for myself (and his family) that he is no longer with us on earth. I know he is loving singing praises to our Heavenly Father and the Lamb. I miss him so. —Kelli Sewell
---
My friend Homer Smith passed away today. I'm going to miss him. If you knew him, you loved him. If you've ever benefited from House to House or Polishing the Pulpit, he is to be thanked. He was a wonderful song leader and musician. It makes me smile to think of him enjoying the singing in heaven.
I sent him a card right before he passed. One thing I really like from that was, "I know we won't get tired in heaven, but if we could, I think you would get tired meeting all of the people you helped get there." —Matt Wallin
---
My relationship with Homer Smith goes back to the day after Thanksgiving, 1994. That was the day the elders interviewed me for the pulpit position at the Jacksonville congregation. Little did any of us know where that would lead. Twenty-five+ years later, Homer has gone on to his reward.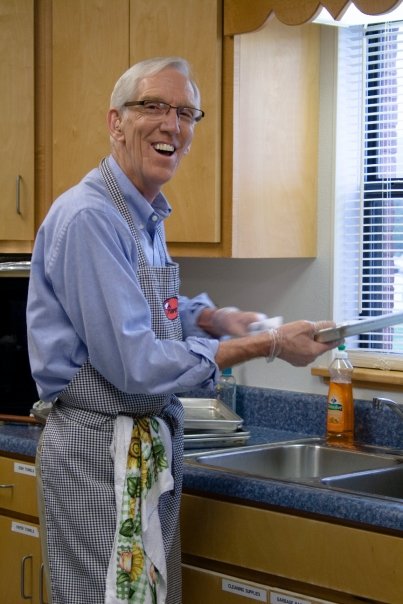 Homer was a man of many talents and a big heart. His people skills were amazing. He knew everybody in town. Church members gravitated to him. He understood people and knew how to make people feel understood. He did a lot of things for the sick, shut-in, and needy that no one ever knew about. He visited hospitals; he took food; he paid bills; he cared for animals; he ran errands; he watched people's houses when they were away. He was easy to talk to, so members would stop by to talk about what was on their minds or what they felt the elders needed to consider. He patiently listened and generally smoothed things over if feathers were ruffled. People left feeling they had been heard and that things would be okay.
Homer was a friend. There were times I went to his house to get his advice. Many, many times I listened to him as he passed along words of wisdom. He, and his fellow elders, loved preachers. They always took care of us above and beyond what we deserved. He supported. He cared. He understood.
Homer was a hard worker. He got to his office early; he was often there late. He took care of 101 things around the building, involving every aspect of church work. He ordered material; he got teacher fill-ins; he replaced tracts in racks; he printed up worship bulletins; he sent out emails regarding church announcements; he did PowerPoints; he coordinated use of the fellowship hall; he organized visitation. Our whole staff is scrambling to do what he alone had been doing.
Homer loved worship. He hated missing when he was sick. He came when it was hard. He watched the livestream when he could not come. The Sunday auditorium gave him the loudest shoutout ever heard in our building a few weeks before he died. He loved to sing and lead singing. The church loved for him to.
Homer had a great sense of humor. He could turn just about anything into a laugh. He was a joy to be around.
Homer served as a shepherd for over thirty years. (I never thought to ask him how long.) He was a pleasant elder to work under and with. Elders' meetings with him in the room usually ended up in laughter even if the conversations were serious. He had good, common sense. He was balanced. He respected Scripture and would always list the verses that authorized whatever he was announcing and adding to the Plan of Work. He was a good leader who was willing to stand up and be counted when the that was required. He was also willing to take a backseat role and let others get the credit. He was a servant leader who was never afraid or unwilling to roll up his sleeves and do the menial tasks.
Homer was willing to try new things. House to House, Polishing the Pulpit, The Great Smoky Mountain Marriage Retreat, and Upward all started under his watch. He encouraged them. He spent many hours working through challenges related to them. Our church building was built under his watch—and paid off early. Hundreds were baptized and restored while he served as an elder. Many, many more grew spiritually and remained faithful as he watched for their souls (Hebrews 13:17). There is no doubt heaven will be more populated because Homer Smith lived.
Homer was a good family man. He and Cil were married for 50 years. They were an outstanding example of a Christian marriage. Younger families looked at their example of how to build lifelong relationships. He loved his girls and grandchildren in sacrificial and practical ways. They speak of his dedication to the church as the reason they are who they are today.
This could go on and on, but I will stop by saying simply that Homer was a man who loved God, loved people, and loved life. He is already missed so, but we rejoice that he won the race. We will see him again by and by. —Allen Webster
---
I come from the outside, so I don't have the long-standing history working with Brother Homer as do most of the staff, but it did not take long to see his value.  First, there would not be an HTHSOE without him.  As an elder, he took great risk to start a brand-new work that had no history to draw upon.  Second, he made our family feel especially welcome and loved during and after our move.  He had a special bond with one of our members, Oakley!  During our long road trips, he would stop by and spoil her.  While he was sick, we brought Oakley to visit him. I think he enjoyed that as much as our company.  We will miss him dearly.   —Rob Whitacre
---
Brother Homer Smith was one of the finest servant leaders that I have ever met. One could see the many ways he cared for others at PTP and I am sure that was true of his work as an elder at Jacksonville. That great smile of his would light up a room and the kind quiet way that he served others was infectious (if that is a proper word to use at this point in time).  His work ethic will live long on this earth by so many others who will follow his example in their work for the Lord. I am so blessed to have known him and I always looked forward to seeing him at PTP. Now, I will get to see him again in Paradise.
Love,
Ron and Bonnie Williams, Lincoln congregation, Huntsville, AL
---
One of God's great blessings is the gift of allowing His children to be drawn together through the church.  Although never a member of the Jacksonville congregation, our life has been richly blessed by frequent interaction with this wonderful congregation.  The majority of those interactions for three decades has involved the strong leadership, joyful smile and tremendous encouragement of our brother Homer Smith.  His warm spirit was seen in his facial expressions, heard in his words and experienced in his many acts of service.  He was a leader who could share a larger vision while also living in the moment.  For example, he was an elder during the origin and growth of some of the largest events in the brotherhood and yet he could simultaneously see individuals and small needs.  Whether he was in an elders meeting or cleaning up after an event you would find him faithfully serving — with a smile.  We may often say someone is a "servant leader" but rarely is it more true than with Homer.
When I read about Homer's passing a verse from Romans 12 immediately passed through my mind; "not lagging in diligence, fervent in spirit, serving the Lord" (Rom 12:11).  Paul urges the reader to have a focused zeal and a spiritual attitude while serving the Lord.  But note, these three phrases are the bedrock of how to accomplish the first portion of this sentence; "Be kindly affectionate to one another with brotherly love, in honor giving preference to one another; not lagging in diligence, fervent in spirit, serving the Lord" (Rom 12:10-11).   Yes, I believe Homers' brotherly love which enriched our lives was rooted in his fervor and zeal to serve the Lord.  There is no more genuine way to love, serve or lead.  Homer personified these verses.
Because of the resurrected Lord, we rejoice for Homer.  By faith, we believe his eternal reward is wonderfully indescribable.  At the same time, we know Jesus wept when he saw the sorrow of a family and friends who mourned their loved one's passing.  To Cil and the family, you are in our prayers.
Thankful we are His,
David and Tracie Shannon
David R. Shannon, President, Freed-Hardeman University
---
He was a great friend to North Alabama Christian Children's Home and always spoke kindly concerning the work we were seeking to do. Even towards the last few months of his life, he did things to show his love for our children and for our Staff. His infectious smile could light up a room and he was always standing in the shadows, willing for others to receive the credit for the many things that have been done. I will cherish the picture we made with him and the other Don Williams at Jacksonville, back in November when he came that night to support our work.
I had the privilege of knowing and working with Homer Smith for nearly 20 years. In October 2001, Homer and other the Jacksonville elders asked me to come on board with the work at House to House. That was the beginning of many of the greatest blessings of my ministry and my life. The work with HTH blossomed into greater association with the great Jacksonville church. My work with the JSU student ministry and Fishers of Men always brought the two of us together. Homer and his "dragonfly" pickup could always be found at the student center. At his invitation and encouragement, I was privileged to pinch-hit as the song leader at the first SPARK in Jacksonville. He was more than capable of doing a great job, but Homer has always been about helping others. Later, again through this good man's encouragement, I was asked to emcee the annual April singing in Jacksonville.
At PTP, it was always a joy to see Homer and Robert sitting together and drinking coffee. I made it an annual tradition to brew them some good coffee in my room and take it to them in the lobby. I recall seeing them together (drinking coffee of course!) at Cracker Barrel when I was on my early runs. I even managed to join them a time or two. It won't be the same without seeing the two of them together. – Don Williams
---
On February 19, after inquiring about his health and at Allen's urging, I made a trip to Jacksonville to visit Homer. Robert advised us not to plan on staying longer than 10 minutes. After we arrived, Homer was having nothing of such a short visit! Allen and I stayed an hour, and it was only because I had to leave that Homer gave us permission to be dismissed! I asked him if he had any song requests for the April singing. He told me, "My Heavenly Home." I told him I'd be honored to lead it. After we prayed together, Homer stood from his chair and hugged me as I walked toward the door. I told him, "I'll see you in April, or I'll see you in heaven." I prayed for April, but as it was not to be, I am even more thankful for heaven. – Todd Clippard